Sikkim Travel Information
Sikkim, the 22nd state of India, maybe a beautiful gift of nature with magnificent mountains and divine vibes. The mesmerizing prismatic beauty and therefore the beautiful winding hill roads are even more breathtaking if seen from a germander speedwell view during a car. The panoramic view of snow-covered Mt.Kanchenjunga always compels hill station lovers to enjoy the aura of the destination covered by three international borders- Nepal, China & Bhutan. Sikkim is one of the foremost famous tourist destinations in North East India. Its magnificent landscape is comprised of high-altitude lakes, lush green mountains, colourful rhododendron groves, azure rivers, milky waterfalls, blissful monasteries and appealing views of Mt. Kanchenjunga/Khangchendzonga, the third highest mountain within the world.The state is divided into 4 districts: North, South, East and West. There are 4 district capitals: Gangtok (East Sikkim), Mangan (North Sikkim), Namchi (South Sikkim) &Gyalshing (West Sikkim), the capital being Gangtok. Each of those districts has something unique to supply to the tourists. Settled as a Buddhist pilgrim site during the 1840s, Gangtok is believed to enter the monarchy and kingdom rule post-British rule. It finally became a part of India in 1975.
Today, it remains a Tibetan Buddhist centre & a base for hikers organizing permits & transport for treks through Sikkim's Himalayan Mountain ranges.Sikkim is the one of the most mandatory travel check lists in every traveller's wish list. Although it doesn't need much of a description because of the popular and well-known words about the destination around the globe. Sikkim still offers a new experience to every tourist and you are undoubtedly going to leave a piece of your heart there. Explore your version of Sikkim and pick the favourite places to go from a list of varied travel spots for all kinds of travellers.
---
Best time to visit Sikkim
Summer, from April to mid-June in Sikkim witnesses' warm weather and clear blue skies. From late September to November, temperatures are moderate, cherry blossoms are in bloom and therefore the skies are intermittently clear for views of Kanchenjunga. Tourists are observed in great numbers during these two high spells. For those who love the extreme weather and wish to experience one such year amid low temperatures, the end of the year is beautifully chilly and you can also enjoy snow scenes and bonfires.
Read guides to reach to Sikkim
---
Pelling City Tour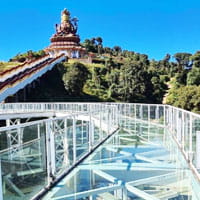 Sky Walk
Around 2.5 kilometers from Pelling and situated at a stature of 7,200 feet above ocean level, the skywalk is encircled by the snow-covered Himalayas and overlooks the marvellous137 feet tall sculpture of Chenrezig and the steps that lead to the brilliant golden prayer wheels on the two sides. Guests can likewise get an all encompassing perspective on the Teesta and Rangit rivers.
---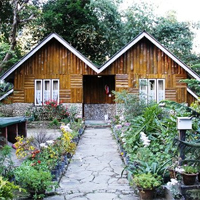 Darap Village
Darap Village is a perfect tourist spot for trekking. It is one of the few unexplored sights in Sikkim and is famous for its bird watching, handicraft making etc.
---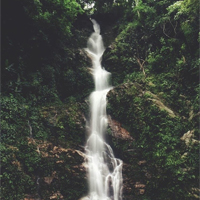 Rimbi Waterfalls
You will find the Rimbi Waterfalls near the Darap Village. It is a beautiful waterfall which leads to the Rimbi river and is a perfect destination to enjoy with your family.
---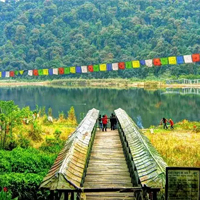 Khecheopalri lake & Waterfalls
It is known for its mystical values. Khecheopalri Lake has situated 34 km to the North-West of Pelling. The lake is considered sacred by both Hindus and Buddhists and it is protected by the government.
---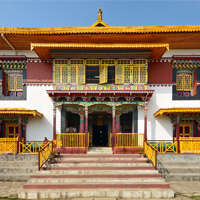 Pemayangtse Monastery
The monastery is situated at over 6500 ft and is a three-storied structure. It is one of the oldest monasteries in Sikkim and was built by Lama Lhatsun Chempoway.
---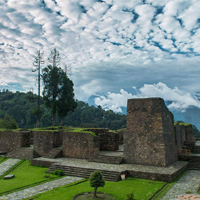 Rabdentse Ruins
Rabdentse Ruins is an archaeological site that depicts the glory days of Sikkim. The place is known for its ancient ruins.
---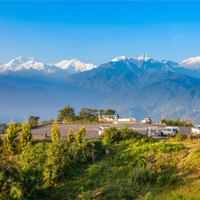 Helipad ground
You will witness breathtaking views of Mount Kanchenjunga from here and enjoy the surrounding scenery.
---
Gangtok City Tour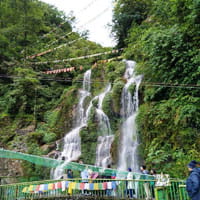 Lasa fall
Lasa falls is found a kilometer away from Tashi point, one of the well known places of interest's of Gangtok in Sikkim. Lasa falls is a little waterfall which streams from the mountain and should be visible while driving from Tashi View Point. There are monstrous rocks where individuals normally move to click pictures and partake joy of soaking in the natural beauty.
---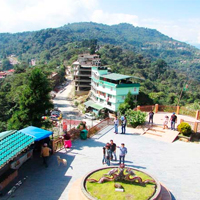 Tashi viewpoint
Tashi viewpoint is situated near Bakthang waterfall. It is mostly famous for its mesmerizing views of the sunrise and sunset.
---
Ban Jhakri Waterfall
The 100 ft waterfall is situated near the Ranka monastery. The place is spread over 2 acres of land and offers a beautiful waterfall. Along with it, this place also offers an energy park, making it a great spot for a picnic.
---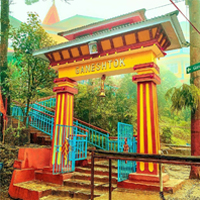 Ganesh Tok
'Tok' means 'Temple' in the local language. This Ganesh temple is situated at over 6500m and the visitor has to crawl to reach the inside of the temple
---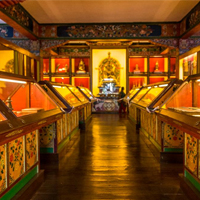 Institute of Tibetology
Institute of Tibetology, also known as Namgyal Institute of Tibetology is a museum situated in Gangtok. It is an institute that promoted the Tibetan language and culture.
---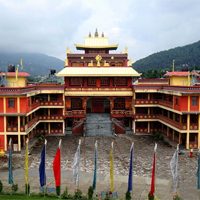 Rumtek Monastery
Rumtek Monastery, also known as the Dharma Chakra Centre is the largest monastery situated in Sikkim. The monastery depicts beautiful Tibetan architecture.
---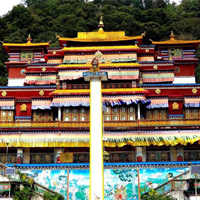 Ranka Monastery
Ranka Monastery is one of the most renowned monasteries in Sikkim. The place offers a gold-plated Buddha statue and Tibetan drawings.
---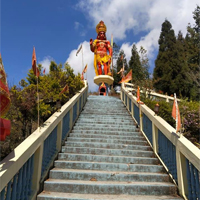 Hanuman Tok
It is a temple dedicated to Lord Hanuman and is situated in Gangtok, Sikkim. This place offers a spectacular view of Mount Kanchenjunga. Since 1968, this place is maintained by the Indian Army.